Still some open dates available!
Weddings - Graduation Parties
Rehearsal Dinners - Pool Parties
Private Celebrations of all Kinds!

Call Jack to reserve your date!
513-720-5225

Be sure to watch our video below! It shows a little of what we have been up to the last couple years!




WE'RE BRINGING THE WOOD FIRED PIZZA EXPERIENCE TO YOUR NEXT EVENT!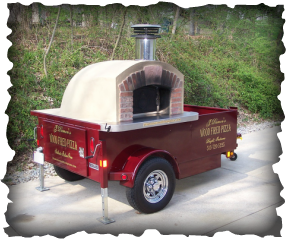 Click photo to view our gallery.

WE'RE BRINGING THE WOOD FIRED PIZZA EXPERIENCE TO YOUR NEXT EVENT!
Imagine delicious wood fired pizza at your next celebration or event. Not just any pizza, but true artisan quality wood fired pizza made to order with the freshest ingredients available and baked in an authentic Italian oven! Your guests will marvel at the oven as it bakes a pizza in as little as 90 seconds at temperatures between 800-950 degrees! That's just the beginning, the real treat is tasting the wonderful pizza this incredible oven produces! Let us help you create that special one of a kind atmosphere you're looking for!

As you can see from the photo, the oven is completely mobile and ready to roll. Our friendly staff eagerly awaits the opportunity to serve you and your guests!



---
Farmers Markets - Music Festivals - Wine Tastings
Family Reunions - Class Reunions

Art Shows - Community Festivals
Sporting Events - Graduation Parties

Business Lunches - Fund Raisers - Car Shows
Company Picnics

Weddings and Rehearsal Dinners
Backyard Parties - You name it!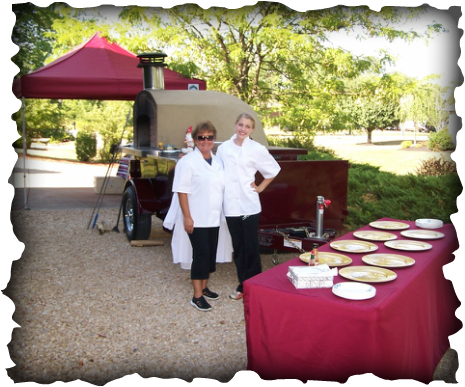 Click photo to view our Pricing and Services page.
Casual Elegance
for your special event!
"Friendly attentive service &
some of the best pizza
you've ever had!"
Call or email today to schedule your date!
Serving the Greater Cincinnati Area
Check our calendar to see where we'll be!
Call Jack 513-720-5225
(JACK)
or email
jdamonswoodfiredpizza@gmail.com
Available for Private and Public Celebrations of all Kinds!
_____________________________________________________________________________
---




UPCOMING EVENTS WHERE YOU CAN FIND US!
_______________________________
Friday August 18, 2017
Hanover Winery Wine Festival
Serving 5:00 pm - 9:30 pm
Live Music
Voted Best Date Night in Butler County!
www.hanoverwinery.com/
________________________________________________
Saturday August 19, 2017
Hanover Winery Wine Festival
Serving 3:00 pm - 9:30 pm
Live Music
Voted Best Date Night in Butler County!
www.hanoverwinery.com/
_______________________________________________
Sunday August 20, 2017
Burlington Antique Show
8:00 pm - 2:00 pm
Boone County Fairgrounds
www.burlingtonantiqueshow.com
____________________________________________________________
August 24,25,26,27
Whispering Beard Folk Festival
Great Music! - Great People!
www.whisperingbeard.com/
10th Anniversary
Friendship, Indiana
____________________________________
Saturday September 2, 2017
Rabbit Hash General Store
Old Timers Day Festival
11:00 am - 5:00 pm
Rabbit Hash, Ky
https://www.rabbithash.com/
____________________________________
Sunday September 3, 2017
Tri-State Antique Market
8:00 pm - 2:00 pm
Lawrenceburg, Indiana Fairgrounds
http://cincinnatiusa.com/events/tri-state-antique-market
_________________________________________________________
Saturday September 15, 2017
Hanover Winery
Serving 3:00 pm - 9:30 pm
Live Music
Voted Best Date Night in Butler County!
www.hanoverwinery.com/
_______________________________________________________
Sunday September 17, 2017
Burlington Antique Show
8:00 pm - 2:00 pm
Boone County Fairgrounds
www.burlingtonantiqueshow.com
______________________________________________________
Sunday October 1, 2017
Tri-State Antique Market
8:00 pm - 2:00 pm
Lawrenceburg, Indiana Fairgrounds
http://cincinnatiusa.com/events/tri-state-antique-market
_______________________________________________________
Sunday October 15, 2017
Burlington Antique Show
8:00 pm - 2:00 pm
Boone County Fairgrounds
www.burlingtonantiqueshow.com




http://www.keepandshare.com/htm/calendars/online_calendar/best_free_online_calendar.php